After travelling around South East Asia for three months, it was time to replenish my funds so that I could continue my plans of long term travel (Here's a Q&A about my love for travel).  I also have plans in the future to teach Biology at secondary school, so I figured the best job for me whilst abroad was teaching English. I'd heard that teaching jobs in South Korea were well paid and perfect for beginners, so I decided to apply to the government run program, EPIK. I completed a CELTA (the most recognised ESL qualification) and applied before setting off on my travels. About a month before school would start,  I found out my application was successful.  I was about to become an ESL teacher in South Korea – exciting stuff!
I've now been teaching for around 6 months and I am having the best time ever! It can be challenging but it is also a very rewarding job which I enjoy MOST of the time. For those of you interested in teaching, I thought it would be fun to write about what my typical day at school is like. So here is an account of my busiest day, Tuesday!
A Day in the Life of an ESL Teacher in South Korea
I normally arrive around 8.30am, so that I can prepare for my first lesson at 9am. The school is usually loud and chaotic at this time, as kids make there way to class. Most will want to speak a bit of English to me, but some would rather just ignore me or run away! On Tuesdays, I teach 3rd grade in the morning and they are literally the cutest things on the planet. They are so tiny and enthusiastic about learning English, it melts my heart!
After three classes of 3rd graders, I then teach one class of 6th grade before lunchtime. As much as I love my 6th graders, they are not the happiest nor the cutest of children. They are about 12 years old, so their hormones are raging and they mostly just look sad or fed up. They have also become more embarrassed about speaking in front of their friends, so getting them to participate is like pulling teeth sometimes! I am very lucky that I have a fantastic Korean co-teacher, who I share teaching with about 50/50.  She really makes my life and job much easier, and we have become very good friends.
Lunchtime is at 12.30pm and is my favorite time of the day! If you happened to read my post about Korean food, you'll know that its incredible and also really nutritious. Below is a photo of my lunch; it changes every day but there's always rice, soup, a meat/fish dish and some vegetables. I really like having a big lunch and small dinner, so this is perfect for me. I then just have  a salad or something light in the evening.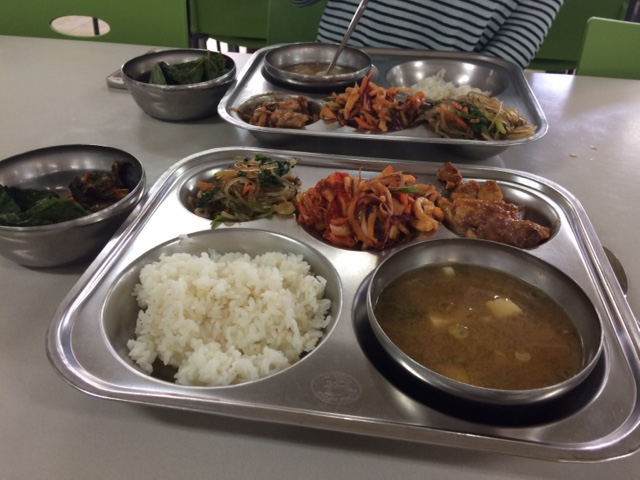 After lunch, I have two more lessons and then I am free in the afternoon for lesson planning. When I had a co teacher, we would plan together, but I now have total creative control of my lessons. The biggest drawback of working for EPIK is that they expect you to come to school during the vacation, apart from your agreed days off. This means a lot of sitting around sometimes, but it does also mean you can plan in advance. I also like to use my afternoons of free time for writing or learning Korean. This semester, I'm hoping to organize a language exchange with some of the teachers, as I really want to improve my conversational skills.
Overall, I have been really lucky with my teaching placement and have no complaints. My school treat me with the utmost respect, and make me feel appreciated and wanted. I am enjoying my experience so much that I have decided to extend my contract for at least another six months. ESL teaching is a great way to make money whilst traveling, and I would highly recommend South Korea. The pay is good, the work isn't too stressful, and it is a very rewarding and cultural experience. I will be very sad to leave and can totally understand why people stay here for years!