Check out my new YouTube Channel!
I was so excited to receive this package from Clinique! Clinique makeup has been one of my all-time favorite brands since I started wearing makeup. It is such a quality brand – you know you are always getting the best from Clinique. I am absolutely in love with the Moisturizing Gel from Clinique – it is very light (but super moisturizing!) so it is perfect for those who have oily skin like me.
I received several items from Clinique including the Pop Lacquer Lip Colour + Primer, the Sweet Pots Sugar Scrub & Lip Balm, the Pep Start Eye Cream, and the Chubby in the Nude Foundation Stick.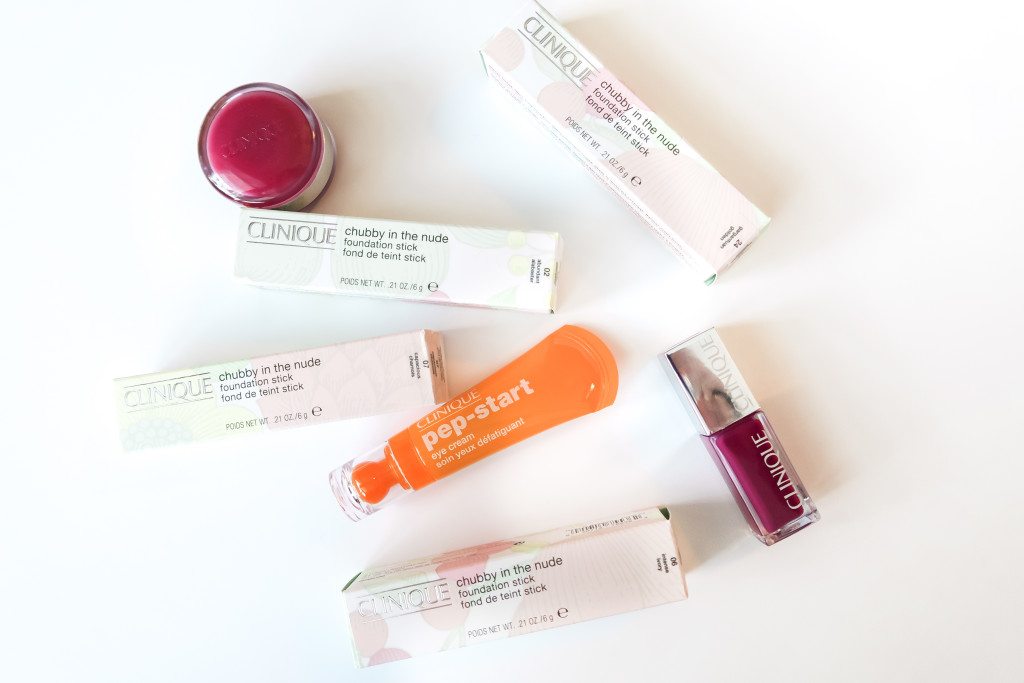 Eye creams are something that I haven't really tried. I don't have dark circle or bags under my eyes so I seem to forget that sensitive little area most of the time. I started using this Pep-start eye cream and instantly notice a difference. Is this what I've been missing this whole time?!  This eye cream is perfect for brightening and hydrating around your eye. I noticed my makeup went on smoother and more naturally after using this eye cream. No cakey creases or dry makeup patches. It doesn't have a cooling or tingling sensation like I assumed it would, but something in it really does perk your eyes up! This would be a great addition to your travel beauty bag for long plane rides. Just a little bit of this eye cream will make so much of a difference on my sleep-deprived skin and stuffy airplane air.
I received several different shades of the Chubby in the Nude foundation stick so I used it to my advantage and did some contouring with a lighter shade and darker shade. Typically, my makeup routine is very simple. Most of the time I only use a bit of bronzer and spot concealer because I don't like the feeling of foundation covering my face. I was a little nervous to try this foundation stick, but was pleasantly surprised because once blended in with a beauty blender it felt light and breathable! The Chubby in the Nude foundation stick gave me really great coverage without making my face heavy or feel dirty and greasy. My skin is typically sensitive when switching products, but I had no problem with breakouts after using this product! I used Capricious Chamois as my base foundation color while highlighting with Abundant Alabaster and contouring with Gargantuan Golden. The chubby sticks are super blendable and easy to work with so it gave me a natural contour look without being too over-done.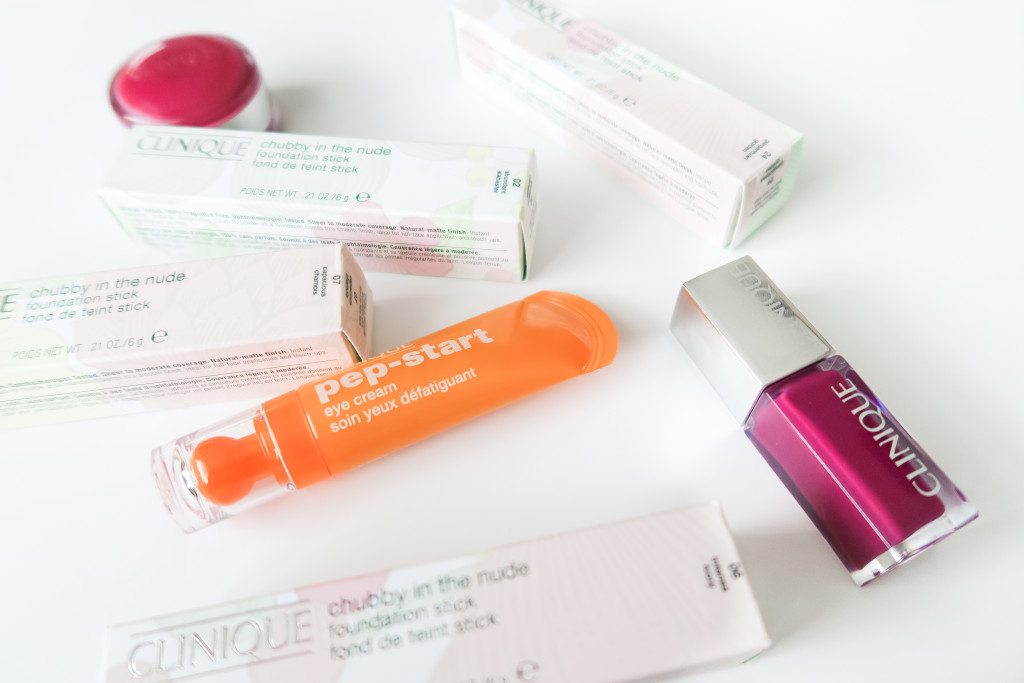 Now, I will admit I would not have picked out such an intense lip color if I was at the store, but I am so glad I was sent the Lip Lacquer in Go-Go Pop. This bright, punchy color is great for nights out and showing off. I was surprised at how smooth it went out. It seems a little sticky at first, but finishing up the application I was so happy with the results. This Lip Lacquer is semi-sheer yet very vibrant! The color stayed put for several hours without needing to reapply it. This lip lacquer is perfect for those long days touring museums while traveling!
The Sweet Pot has been my every day go-to lip routine. I don't normally wear a bold lip so this sugar scrub and tinted moisturizing lip balm duo is perfect for me. I love the small size – it is so easy to pop in my bag and use when needed. This Sweet Pot is perfect for traveling in different altitudes. Always keep your lips exfoliated and hydrated. I love me a good lip scrub and this little thing has one built in! You'll need to work up the sugar scrub with your finger to get it soft enough to use, but once you do it is very easy to get out. I love to exfoliate my lips. I think it stimulates my lips and gives it a more full look and allows color to smooth on perfectly. I received the shade Candied Cassis. It is a lighter more berry color and it gives my lips just that little bit of color I need. I think I will go for the Pink Framboise shade next!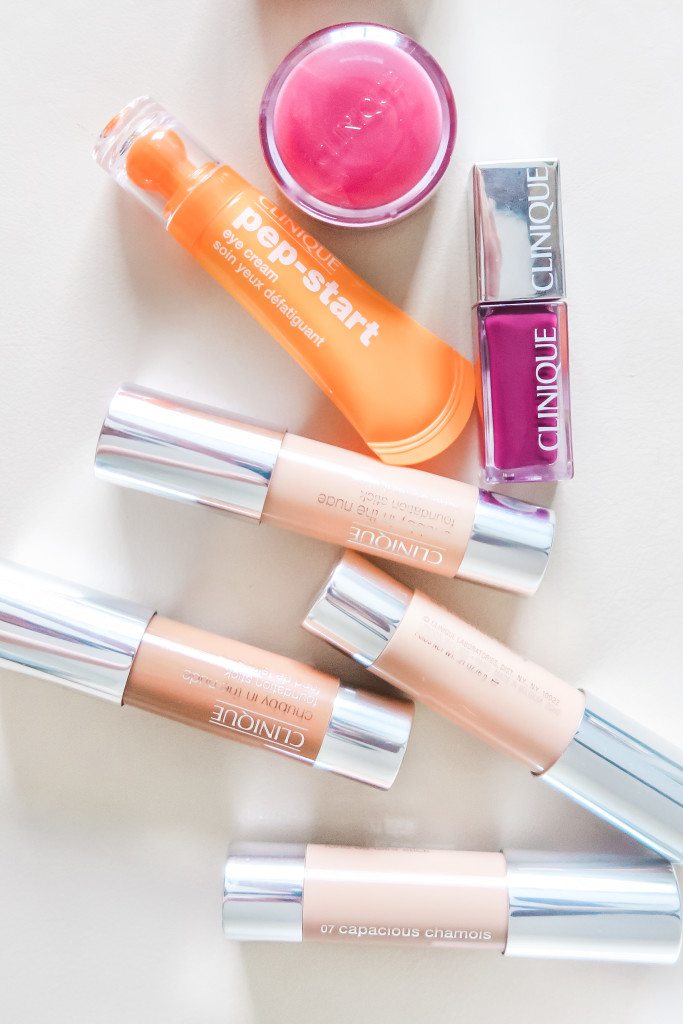 Here are the Clinique Makeup deets for this post:
Pop Lacquer Lip Colour + Primer in Go-Go Pop
Sweet Pots Sugar Scrub & Lip Balm in Candied Cassis
Chubby in the Nude in a variety of colors
Be sure to visit CLINIQUE.COM to check out all of the amazing skincare and makeup products they have!
**Thank you Clinique for sponsoring this post. I was compensated and received these items for an honest review. This post also contains affiliate and referral links. If you shop from my blog, I may be compensated for clicks or purchases that you make. Read the disclaimer on my sidebar for more information. Please know that all opinions are my own. This post was written in collaboration with Clinique and The Blog Societies.**
————————————————————————-
STAY IN THE KNOW!