I was so pleased with the results of InstaNatural Argan Oil & Skin Clearning Serum that I decided to give some more of their products a try! You can see my product review of those amazing, natural products HERE.
I have heard so many amazing things about the Dead Sea and how it can work wonders for your skin so when I saw InstaNatural carried a Dead Sea Mud Mask I had to jump on the offer! The Dead Sea is packed with magnesium, sodium, bromine, potassium and calcium that give your skin a bright glow while soaking up excess oil, dirt and toxins. Many people travel from all over the world to use the powers of the Dead Sea for natural healing. Yes, it is THAT amazing. I am interested to see if this mud mask used as body treatment can soothe and relieve muscles aches and pains like it says. I will let you all know!
After using this mud mask once I noticed a difference in the brightness of my skin. Over the course of the next couple of days I noticed blackheads being brought to the surface of my skin. This caused a very minor breakout which was cleared overnight by InstaNatural's Skin Clearing Serum. Can you tell I'm hooked on this stuff? I had my hubby try the mask with me and he noticed a significant difference in blackhead in the crease of his nose and chin. He also had a minor breakout, but it cleared up within the next day. Nothing life-threatening – just all of the bad stuff brewing in your pores being brought to the surface and expunged. We didn't mind because this was just the process helping our skin get healthy and blackhead free.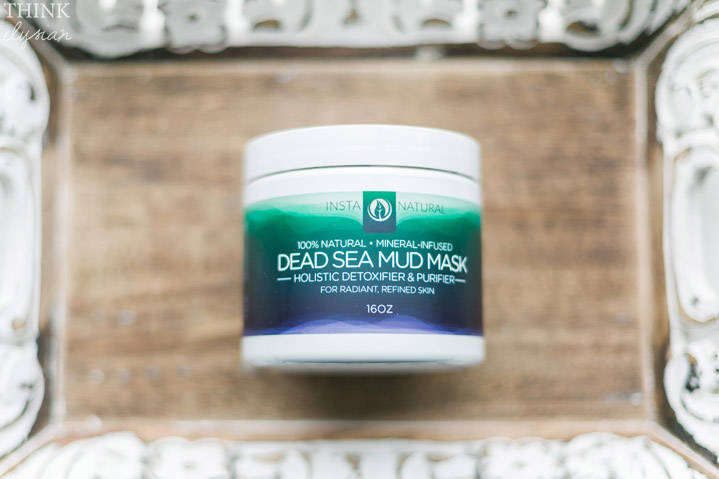 I made sure to use my Argan Oil after the mask because our faces felt extremely dry. So I would definitely make sure you have a moisturizer handy after this mask. This mask is all natural and has some notable ingredients such as Organic Shea Butter, Organic Jojoba Oil, Organic Aloe Vera, Organic Calendula Oil, and Hickory Bark Extract. I will definitely continue to use this Dead Sea Mud Mask as a weekly routine to see how my face responds. So far I am very pleased with how easily it seems to be kicking my blackheads in the butt – well, head, I guess? :] I feel really great about my skin care routine switching to more natural, organic products. I really just think the best way to have great results is to trust mother nature with this sort of thing. You don't need all those crazy chemicals, parabens and scary stuff! Trust InstaNatural to put you on the right path toward a healthy skin care routine! Be sure to check InstaNatural out on their website: www.instanatural.com or Facebook: www.facebook.com/instanaturalcompany
You can buy the Dead Sea Mud Mask here
**This is a sponsored, unbiased post written by Loren Ferguson on behalf of InstaNatural.**