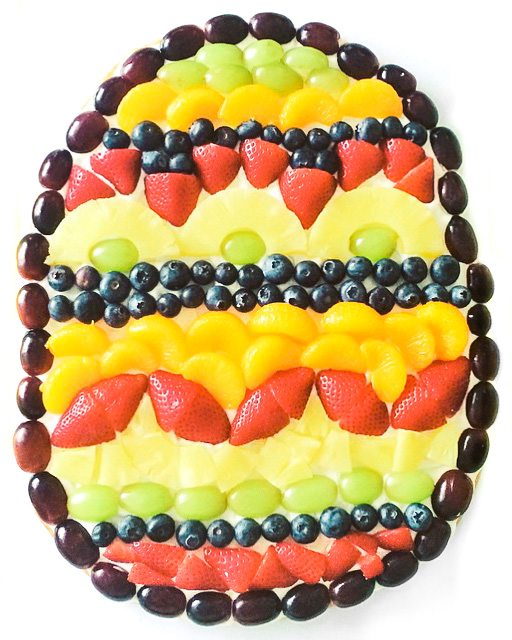 I am so sad that I can't find my photos of this amazing Easter Egg Fruit Pizza we made last year! I snapped some photos of this masterpiece to share with you all on my DSLR, but have somehow misplaced the images – oh well! This iPhone photo gives you a good idea! :)
When I think of dessert I tend to lean more towards chocolate. Fruit never enters my mind as a "dessert", but my husband is all about fruit and my nephew Owen loves it too! I figured I would give fruit pizza a try and see how everyone liked it. Now, just because it has the word fruit doesn't mean it is good for you! :P This is a sugar cookie bottom and a yummy (but not so healthy) marshmallow and cream cheese spread.
This fruit pizza was SO much fun to design. I let my little nephew Owen help me out and decide which fruit should go next. He was very excited about this dessert we made together. I love to create special little memories like that.
---
Here are some tips to designing a fruit pizza:
Pick out fruit that varies in colors and shapes. I picked green and purple grapes and blueberries as my round fruit. The round fruit will be easy to line up to separate and define each section. The purple grapes were great to outline the "egg". I am so glad I bought some pineapple slices to add some fun arches – these slices seemed to be Owen's favorite section. Lastly, strawberries, of course! Strawberries cut in half helped create diagonal lines and triangles.
Be sure to drain juicy fruit. The pineapple chunks and mandarin oranges were very juicy. I didn't want the juice to run all over the place and make the cookie mushy so I patted them lightly with a paper towel before sticking them on the egg.
Have fun with it! So what if your line isn't straight or if your cookie egg came out a little wonky – you don't have to be Martha Stewart to create memories. A silly design is just as much fun as a perfect one. Grab some kiddos and have them help you decide where the fruit will go.
---
Fruit Pizza Recipe
Ingredients: 
– Variety of fruit
– (1) 8 oz block of Cream Cheese
– (1) 7 oz Marshmallow Fluff
– Pre-made Sugar Cookie Dough (I used Pillsbury 16.5 oz roll)
Directions: 
Preheat the oven according to the premade sugar cookie directions. Use parchment paper on a baking sheet. Roll out your dough to create an egg-like shape on the parchment paper. Cook as directed. Watch the cookie carefully to make sure it is not over cooking.
Mix together the cream cheese and marshmallow fluff with an electric mixer. It is much easier to whip it together using an electric mixer.
Once egg-shaped cookie has cooled from the oven spread your mixture of cream cheese and marshmallow over the cookie like icing.
Use your fruit to design a fun pattern on your cookie!
Enjoy with your loved ones! Be sure to tag @thinkelysian on social media so I can see everyone's designs! :)
——————————————————————-
STAY IN THE KNOW!