YALL. It has been an intense 7-8 weeks. Life after flight attendant graduation has been a whirlwind. If you haven't noticed from snapchat or insta stories I got based and am now living in Washington D.C. After a grueling 6.5 weeks of training it was time to get to work and head to our bases. We arrived at our bases Monday and we were officially on the clock starting at midnight on Wednesday. So essentially we only had a couple of days to find a place to live and cross our fingers we didn't get scheduled a flight so we could scope out apartments.
I know the burning question in everyone's minds: What about Caleb?! Since Caleb is a Houston Firefighter he obviously has to be based in Houston, but because of his great schedule he will be able to hop on a flight and commute to D.C. whenever he is off. Flight attendant perks! :) So essentially we will be living in two different parts of the country, but our flexible, laid back personalities are just going with the flow on this one. I think we will be able to see each other more than we realize. It has already been quite an adjustment during training because it was 6.5 weeks where I had essentially move in to a hotel. But no worries guys – it's all good!
Life after Flight Attendant Graduation
A couple of friends and I decided to rent out a 3 bedroom apartment and split it between 3-5 flight attendants. I know it sounds like a lot, but honestly with all of us working different schedules it will be very rare, if ever, that we are all there at one time. This makes it cheap for all of us and it gives us a place to keep our stuff unlike a flight attendant crash pad. If you didn't know flight attendant crash pads are usually 2 bedroom apartments that have anywhere between 2-4 sets of bunk beds and you basically just rent a bed. Typically you only have a cubby of storage and you can only stay if you are commuting. You wouldn't be able to stay in a crash pad full time – most of them have a maximum number of days a month you can stay. So for us, that crash pad option just didn't work.
We got super lucky and found a great apartment complex really close to a great town center and close to the airport. We put our deposit down with our move in date set to about a week and one of our roommates set off for his first trip to London! Our hotel stay provided by our company was a week and ended on Sunday so we would have to get an airbnb for a week. No big. WELL they called us the day before we had to check out of our hotel and said there was a mix up and a 3 bedroom apartment wouldn't be ready until the first or second week of July. We negotiated with them and decided on moving in to a 2 bedroom place at the end of June until a 3 bedroom opened up. But the dilemma now was where to stay for 3 weeks! An airbnb for 3 weeks was not even available and even if it was it was crazy expensive.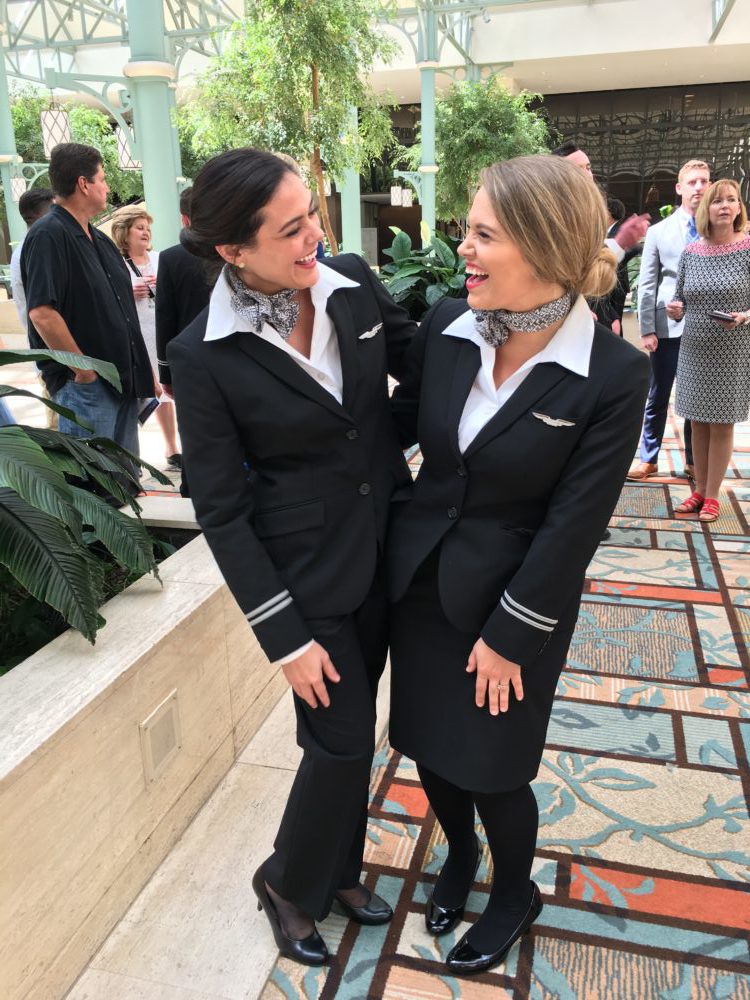 My friend and I were scrambling to find a place calling hotel after hotel to stay for a couple of days while we figured it out, but everything was booked because it is summer vacation here in D.C. and everyone is coming to visit! All this is going on and our poor third roommate is having a grand ole time in London going to come back to a stark reality. Luckily, another friend that is renting a room from a lady asked if we could crash there for a couple of weeks. We ubered over to her house and meet with her and moved in that day. Its not the most ideal place. I am sleeping on a couch and Glo is sleeping on a twin air mattress, but it is much better than being homeless. We all got dispersed and figured out a temporary place to stay until our apartment becomes available thankfully, but it was so stressful!
So to say life after flight attendant graduation has been an adjustment period would be an understatement. But honestly, as chaotic as this flight attendant life is, I wouldn't have it any other way.