As you all know, I have been trading my drugstore brand skincare products for more natural, organic products. I really loved the OZ Naturals serum so figured I would give their natural facial cleanser a try.
My skin has taken a beating this past month! Birthday parties, Super Bowl munchies and being so busy with my photography & videography – I have totally taken my skin for granted. I am back on the wagon eating right & exercising now so that I can balance my skin back out. I'm super excited to tell yall about the great natural facial cleanser I have been using that has been working like a charm!
Here's a run-down of OZ Naturals' Ocean Mineral Natural Facial Cleanser
OZ Naturals CRUELTY FREE formula does not contain alcohol, parabens or sulfates and is safe for all skin types. Our Ocean Mineral face cleanser is extremely effective.
MADE IN THE USA in a state of the art FDA registered facility, OZ Naturals formulates the most effective anti aging skin care products on the market
OZ Naturals NATURAL & ORGANIC facial cleanser is considered to be the highest quality skin cleanser on the market.
POWERFUL INGREDIENTS include rosehip oil, rich ocean minerals & vitamin e. This formulation was developed to specifically be gentle on sensitive skin yet highly potent and effective at dissolving nasty particles that clog your pores.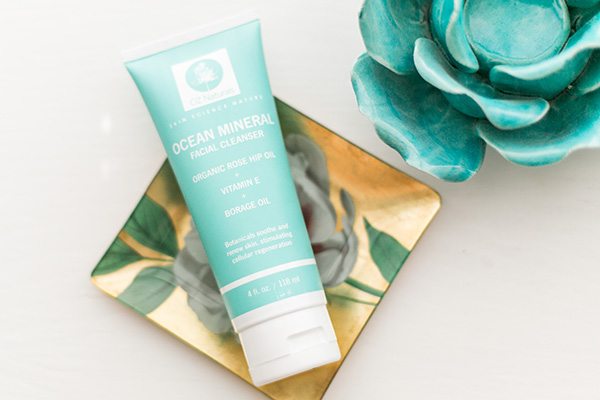 This natural facial cleanser is clear and a little bit runny so be ready when you turn it over to pour it in your hand. I used a little less than a quarter sized glob and that is always enough. Since it is so thin, it is easier to just use your hands instead of a washcloth. My only wish is that it had a little better of a smell to it. It doesn't smell bad, but it just smells a little sterile.. like a hospital. But it makes sense – no fragrances is a big part of it being as natural as possible!
"Cellular regeneration" always sounds like terminator-type stuff to me, but after using this cleanser for two weeks I get it now! My skin really has been rejuvenated! It is brighter and has a more overall even tone to it. The Ocean Mineral cleanser really has helped my skin get back on track. My blemishes from stress and a bad diet have calmed and subsided without drying out or being irritated.
My skin feels clean – but not stripped after using this cleanser. It is almost hard not to touch my face because it makes my skin so soft.
I have been experimenting with turmeric face masks lately and was MORTIFIED when the turmeric stained my face a bright yellow. I, obviously, did not get the memo on turmeric staining like crazy! :P After rubbing and rinsing my skin with water and a washcloth I decided to put a little cleanser on to hopefully take some of the yellow away. I was so relieved when this cleanser came to the rescue and washed away all of the yellow stain completely. I loved being able to wash with a natural cleanser after a natural face mask. My skincare routine is on the up and up!
Try OZ Naturals Ocean Mineral Natural Facial Cleanser!
---
**This is a sponsored, unbiased post written by Loren Ferguson on behalf of OZ Naturals.**
—————————————–
Stay in the know!