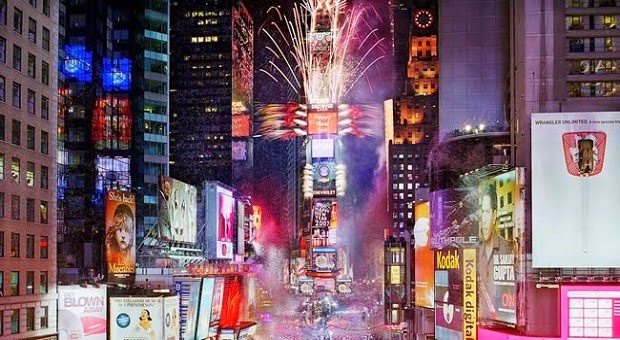 I am SO excited because we have decided to go to New York this year for New Years! I think watching the ball drop New Years Eve in Times Square is pretty much on everyone's bucket lists. My question to you – Why are you not going?
My dad has always wanted to go to New York for New Years to watch the ball drop. So I was very excited to ask him, but I received the same answer from him that I did from everyone else, Dad: "No, I don't think we can.."
Me: "Why?"
Dad: "I don't know.."
Here is what I DO know: There is no reason NOT to go. So many people go through life without really enjoying it and fufilling their bucket list! I know what you are thinking, "I've got bills to pay! I can't afford that!" Well – like everyone else we have bills to pay, but our priority in life right now is to travel, enjoy each others company, experiencing new things and different places together. We plan and live our lives accordingly. We are frugal with our money for this very reason. We do not have "steak night" every Wednesday or go out to bars/dancing every weekend. Instead, we choose Netflix and religiously watch Sons of Anarchy. We love to take walks with our boxer Cowboy. We have molded our life to be able to put money aside to travel. Fortunately, we are naturally homebodies so this lifestyle isn't that much of a challenge, but when we want to go out – we go out, simple as that. If we want to have a sushi date, we do. We enjoy the simple pleasures of life without going overboard.
We recently received a travel rewards credit card that will earn us points to make traveling that much easier for us. I always try to find the best deals on airbnb or VBRO for rentals – I know when its cheapest to buy airline tickets. I am not just booking the first available flight and the first hotel I come across. Traveling frequently means you have to really be smart about planning. I'm sure everyone knows that New York prices are crazy inflated for New Years – but we found a way around that by renting a 2 bedroom place and splitting the cost with another couple. It's simple sacrifices like that, that will get you to where you want to go! (P.S. we love the couple we are going with so it's not much of a sacrifice! haha!)
My family and friends think I am crazy because of my severe case of wanderlust, but that's just fine by me. :] Whether it takes you 3 years to save up or 3 months – go out on an adventure! Be smart about your expenses and planning. Experience other cultures, get lost in Italy, feel claustrophobic in Times Square, get sunburnt in Hawaii – I promise, you won't regret it. Start planning and checking off your bucket list! :]
Does anyone have any suggestions for our trip? Where to eat, what to see, must do's? We are going to be there for a week! I'd love to hear what is in store for us! :] I can't wait to spend New Years Eve in Times Square!