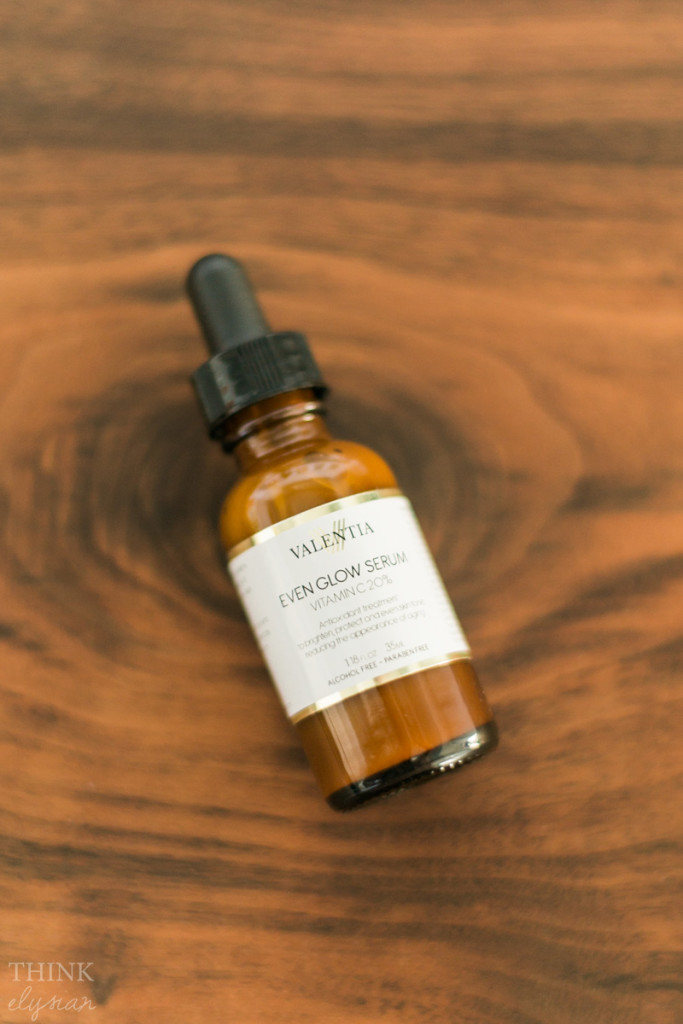 I am becoming a huge fan of serums! This Valentia Even Glow Vitamin C Serum for face by Valentia showed up on my doorstep and I was grinning from ear to ear. I was pleasantly surprised with the light, citrus smell. This serum is packed with Vitamin C. Now, I like most people, know what Vitamin C does internally, but I eager to investigate what it would do as a topical treatment. Vitamin C reduces inflammation and improves cell renewal!
I feel like it is never too early to introduce a skin care regimen to reduce the appearance of aging especially if it is a natural one like this serum. As a twenty-something, I obviously do not have deep wrinkles or sagging, but I do notice small fine lines forming – especially on my worrisome forehead and around my eyes. Nothing to panic about, but I like to know that this serum has my back in that aspect. There are so many great ingredients in this serum that help fight off signs of again. Organic rosehip seed oil and organic sea buckthorn oil promote skin hydration, lock in moisture to fend off signs of aging. Resistem (Plant stem cells) provide protection from stress-related aging (Lord knows I need that!) and helps the skin regenerate faster. Hyaluronic Acid is a botanical that activates collagen production.
I really liked the smell and texture of this serum. Unlike most serums, this one was not runny or oily – it was actually thicker than expected but I ended up enjoying it. It did not make my face look oily or shiny after using and absorbed in to my skin rather quickly.
After a couple of days of using this product I noticed my face was brighter and the overall tone of my face was more even. I had no worries of my face being too oily or too dry. This serum perfectly balanced out my skin to make it glow. I really couldn't find a con and will definitely keep this serum in my skincare routine. I think it is definitely worth a try for everyone!
BUY IT HERE ON AMAZON
http://www.valentiaskincare.com
**This is a sponsored, unbiased post written by Loren Ferguson on behalf of Valentia.**